Bragg Comprehensive Cancer Centre Showcase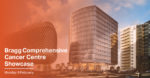 How will South Australia's comprehensive cancer centre improve cancer prevention, treatment, care and research?
Find out at an upcoming interactive information showcase for doctors, nurses and allied cancer health professionals plus researchers and patients and carers.
Speakers and panellists include:
Professor Grant McArthur (Executive Director, Victorian Comprehensive Cancer Centre Alliance) – Discussing his experience and insights from establishment of the VCCC
Professor Dorothy Keefe (CEO, Cancer Australia) – Discussing progress of the Australian Cancer Plan
Panel discussion – Discussing progress in establishing South Australia's CCC.
Panel Members include:
Professor Grant McArthur
Professor Dorothy Keefe
Professor Tim Price
Professor Steve Wesselingh
Ms Lesley Dwyer
WHEN:            4-5pm, Monday, 6 February
WHERE:         SAHMRI Auditorium, North Terrace, Adelaide
REGISTER:    Here